*Inlägget innehåller annonslänkar*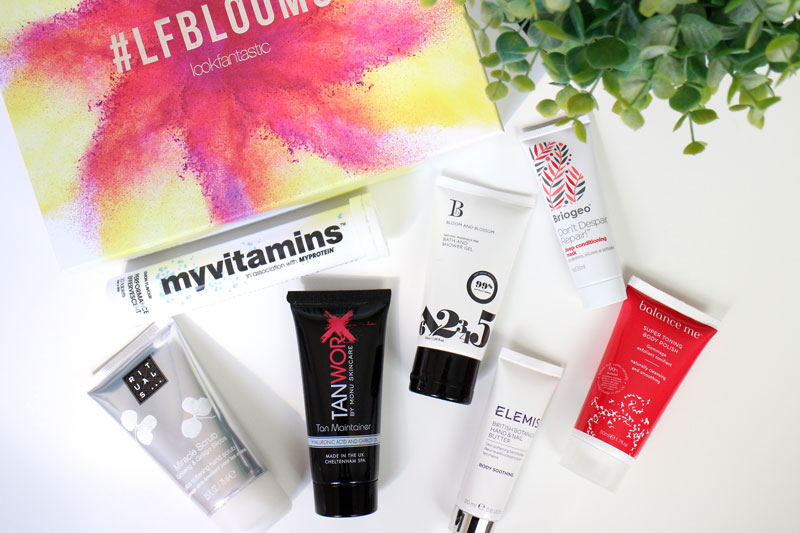 I förra veckan landade aprilboxen ifrån Lookfantastic* hos mig. Månadens box går under temat #lfblooms och innehållet fokuserar på ekologiska, organiska och naturliga produkter. Jag gillar verkligen att Lookfantastic numera kör på olika teman och att de anpassar utseendet på boxarna utifrån dessa teman. Månadens box är otroligt vacker. Månadens box innehåller:
♥ MYVITAMINS Performance Effervescent (bonusprodukt)
♥ RITUALS Miracle Scrub Hand Scrub (ord. 75 ml 135 kr)
♥ TANWORX Tan Maintainer (sample size – ord. 120ml ca 135 kr)
♥ BLOOM AND BLOSSOM Bath and Shower Gel (sample size – ord. 150ml ca 135 kr)
♥ ELEMIS British Botanical Hand and Nail Butter (sample size – ord. 100 ml ca 215 kr)
♥ BRIOGEO Don´t Despair Repair Deep Conditioning Mask (sample size – ord. 236 ml ca 350 kr)
♥ BALANCE ME Super Toning Body Polish (sample size – ord. 150 ml ca 215 kr)
---
Vilken användbar box. Jag är kanske inte överförtjust i varenda produkt men jag kommer definitivt att använda upp varenda en i månadens box. Det händer inte ofta. Gladast blev jag över handskrubben ifrån Rituals som jag haft tidigare och älskat. Vill du läsa mer om Lookfantasticboxarna eller börja prenumerera så hittar du mer info här*.
---