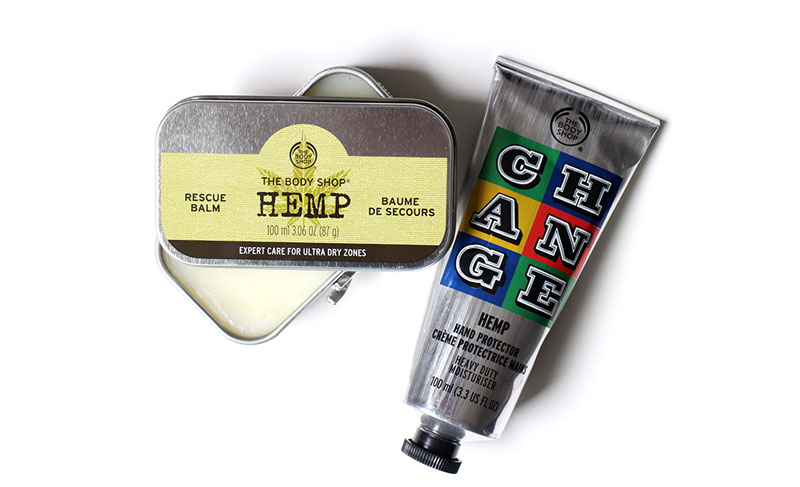 På onsdag, det vill säga den 10/2, utökar The Body Shop sin Hemp-serie med lite nyheter till både det ordinarie sortimentet och i limiterad utgåva. En av TBS bästsäljande handkrämer är Hemp Hand Protector som nu lanseras i en limiterad förpackningsdesign skapad av gatukonstnären Eine (130 kr). Den limiterade designen av Hemp Hand Protector bär budskapet "Change" som markerar starten på The Body Shops nya utökade hållbarhetsarbete och symboliserar kundernas möjlighet att bidra till positiv förändring. För varje sålt designexemplar av Hemp Hand Protector går 20 kr till The Body Shop Foundation, den välgörenhetsstiftelse som drivs av The Body Shop International. Donationen kommer att gå till att nå stiftelsens mål att samla in £300,000 som fördelas till ideella organisationer världen över. Hur pengarna fördelas är upp till kunderna. Varje köp av handkrämen ger kunderna möjlighet att rösta på en av tre hållbarhetsfrågor – (1) Skydda och berika planeten, (2) Skydda och berika hav och marinliv & (3) Skydda och berika djur och människor.
Förutom den limiterade handkrämen släpps även två nya produkter som kommer att ingå i den fasta Hemp-serien. Hemp Heavy-Duty Body Moisture Protector (200 ml / 185 kr) är en tyngre kroppskräm för ultratorr hy som ska ge fuktighetsbevaring för hela kroppen i upp till 96 timmar. Hemp Rescue Balm (100 ml / 225 kr) är en balm för direkt vård och skydd av utsatta och ultratorra områden som armbågar och knän.
Hemp-serien är inte den mest väldoftande serien hos The Body Shop men handkrämen är den kräm som räddat mina händer denna vinter. Bättre återfuktning har jag inte stött på under en lång tid. Har du inte testat den innan så är det läge att göra det nu!
---