*Inlägget innehåller affiliate-länk*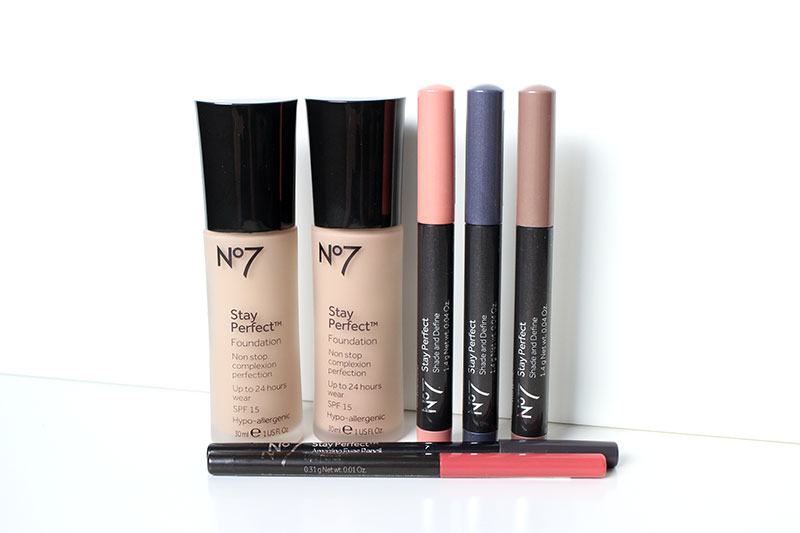 I november lanserade det brittiska märket No7 en uppdaterad makeupkollektion hos Apotek Hjärtat* och med uppdaterad kollektion menar man nya produkter, nya nyanser samt nya formuleringar. I kollektionen hittar man allt ifrån foundation till ögonpennor och mascaror. Jag har fått hem ett par av de här produkterna, bland annat foundationen som jag läst väldigt mycket gott om men som ni kan se på swatches nedan är alldeles för mörk för mig. Jag hade behövt någon av de allra ljusaste nyanserna så tyvärr blir det inget testande av den. Något jag varmt kan rekommendera annars ifrån denna kollektion är ögonpennorna Stay Perfect Shade and Define. Så jäkla grymma! Pigmentrika, lätta att jobba med och de sitter som berget. Mer info om produkterna nedan.
---
♥ No7 Stay Perfect Foundation 199 kr, en återfuktande foundation med SPF 15 som ger ett naturligt resultat med fin lyster. En perfekt bas för makeup som håller hela dagen och finns i åtta nyanser och ger lätt till medium täckning.  Passar alla hudtyper. Hypoallergen och fri från parfym. Finns i nyanserna Calico, Cool Vanilla, Warm Ivory, Warm Beige, Beige, Cool Beige, Deeply Beige och Wheat.
♥ No7 Stay Perfect Shade and Define 119 kr, är en krämögonskugga och eyeliner i ett. Den mjuka, krämiga ögonskuggspennan är lätt att applicera och ger ett mjukt skimmer som håller länge. Med pennspetsen kan man lägga en tunnare, mer definierad linje längs övre eller undre franskanten likt en eyeliner. I pennans ände finns även en inbyggd vässare. Finns i nyanserna Pink Pearl, Cool Mink, Glistening Ray och Gunmetal Grey.
♥ No7 Stay Perfect Amazing Eyes Pencil 99 kr, nu med förbättrad och mjukare formula, Stay Perfect Amazing Eyes Pencil ramar in,  definierar ögonen och ger intensiv färg med ett långvarigt resultat. Finns i nyanserna Black, Brown och Charcoal Grey.
♥ No7 Precision Lips Pencil 99 kr, kommer nu i en uppdaterad formula med nya nyanser!  Precision Lip Pencil är en mjuk läppenna som formar och definierar läpparna och håller läppstiftet på plats. Den mjuka och krämiga formulan gör den enkelt att applicera och ger ett hållbart resultat. Pennan har även en inbyggd vässare. Finns i nyanserna Rasberry, Red, Nude och Soft Blush.
---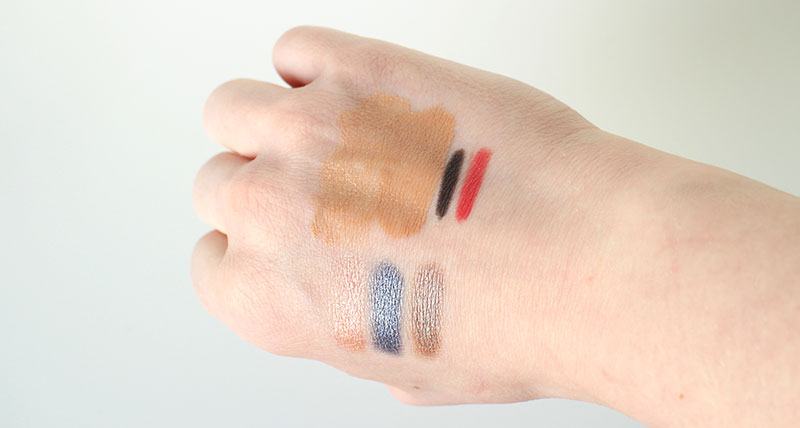 Stay Perfect Foundation Cool Beige & Beige, Stay Perfect Amazing Eyes Pencil Charcoal Grey, Precision Lips Pencil Soft Blush,
Stay Perfect Shade and Define Pink Pearl, Gunmetal Grey & Cool Mink
---