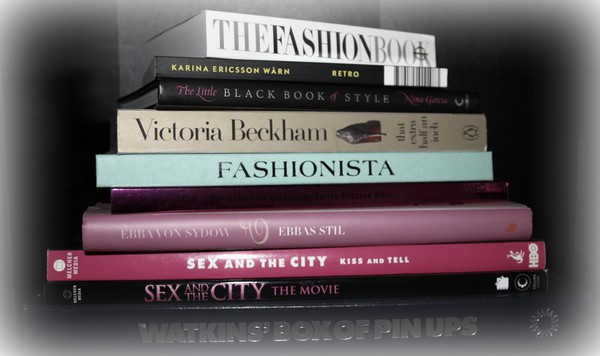 Ovan ser ni min lilla samling av modeböcker. Önskar verkligen att jag hade fler och att dem kunde få ligga på ett sidobord i en klädkammare. Men man kan inte få allt här i världen. Förutom böckerna ovan så har jag ett par böcker om mode i ren studielitteratur samt några självbiografier som rör modeämnet (exempelvis "guccikrigen"). Vi kör en liten introduktion av dem här över, med start uppifrån och ner. Vill ni kika närmre på någon, så säg bara till så fixar jag det!
1.
The Fashion Book
2.
Retro
3.
The Little Black Book of Style
4.
That Extra Half an Inch
5.
Fashionista
6.
Chic
7.
Ebbas stil
8.
Sex and the City – Kiss & Tell
9.
Sex and the City – The movie
10.
Watkins´ box of pin ups
---
Vilken modebok får man bara inte missa?