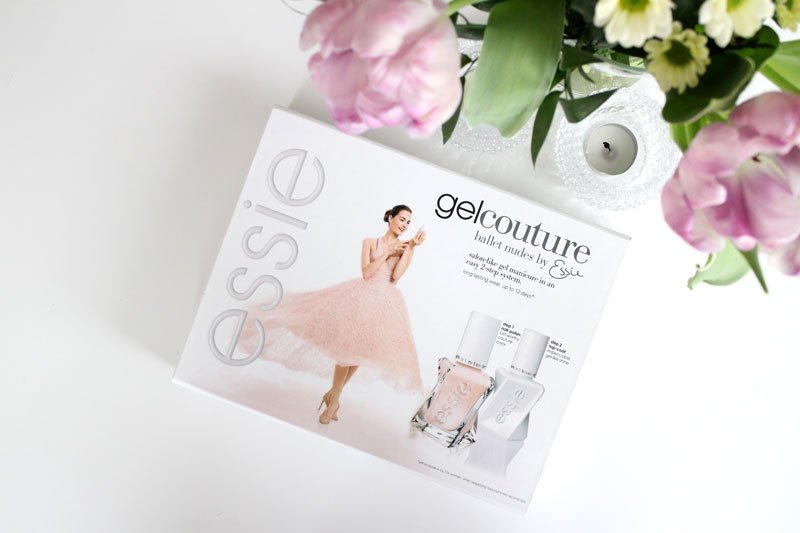 ---
step into your satin slipper and meet me at the barre – let´s dance a pirouette or two before closing night. when the curtain is drawn and the spotlight is on, hold the position with perfect posture like a prima ballerina. whether you lace me up or lace me down, my ballet nudes look on pointe.
---
För ett par veckor sedan fick jag hem den finaste lilla boxen ifrån Essie med deras senaste Gel Couture kollektion – Ballet Nudes. Älskar verkligen pressutskick där det finns en tanke och en kärlek bakom presentationen av de nya produkterna. Likt detta utskick.
Ballet Nudes består av 6 lack i neutrala och pastelliga nyanser – samtliga inspirerade av balettens förtrollande värld. De borde finnas i butik nu och kostar 149 kr/st. Swatches kan ni se här. Gel Couture är en serie lack som Essie lanserade under 2016 och som ska ha en hållbarhet på upp till 12 dagar (förutsatt att en återapplicerar överlack varannan dag) med otrolig glans i ett 2-stegs system med särskilt överlack. Jag har inte varit särskilt imponerad av Gel Couture tidigare men jag ska även ge dessa nya nyanser en chans så får vi se om jag tycker annorlunda den här gången.
→ satin slipper – silky champagne ivory
→ lace me up – misty rose pink
→ hold the position – coral peach pink
→ at the barre – soft cinnamon nude
→ perfect posture – periwinkle powder blue
→ closing night – soft shimmer gray