*Inlägget innehåller annonslänkar*
---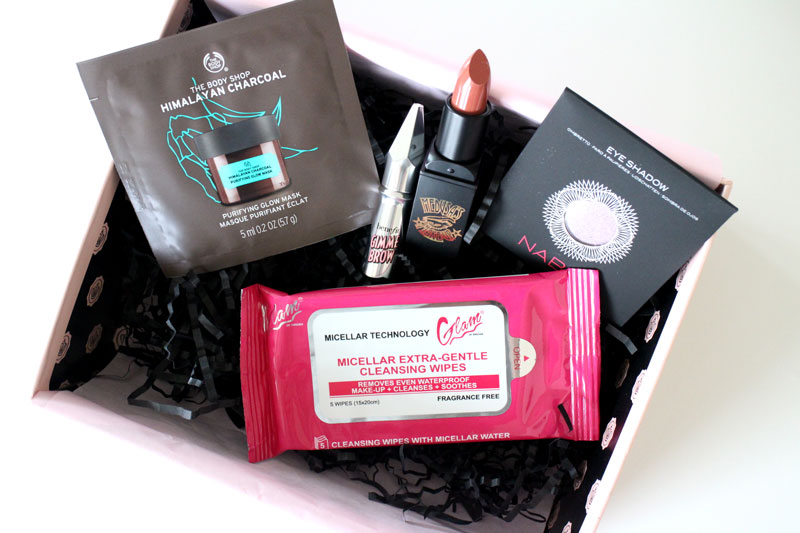 Temat för augustiboxen ifrån Glossybox är "Beauty Kick" vilket syftar till att boosta oss med nyheter och spännande varumärken. Dessutom har flera prenumeranter till Glossybox önskar fler produkter med veganskt innehåll och därför innehåller boxen hela 3 produkter med just veganskt innehåll. Min box innehöll:
♥ The Body Shop Himalayan Charcoal Purifying Glow Mask (195 kr/75ml)
♥ Benefit Gimmie Brow (275 kr/3g)
♥ Medusa´s Makeup Lipstick "Sugar Daddy" (110kr /3,5g)
♥ Nabla Cosmetics Eyeshadow Refill "Ground State" (65 kr /2,5g)
♥ Glam of Sweden Micellar Extra-Gentle Cleansing Wipes (29kr)
---
Jag är överlag rätt nöjd med den här boxen och det enda jag egentligen inte gillade var läppstiftet. Gimmie brow från Benefit är redan en stor favorit hos mig, likaså masken ifrån The Body Shop och äntligen får jag testa något ifrån Nabla. Servetterna ifrån Glam of Sweden var oväntat bra så det var lite synd att vi bara fick ett provpack om fem stycken när jag gärna hade sett ett originialpack i boxen. Läs mer om Glossybox och teckna en egen prenumeration här*.