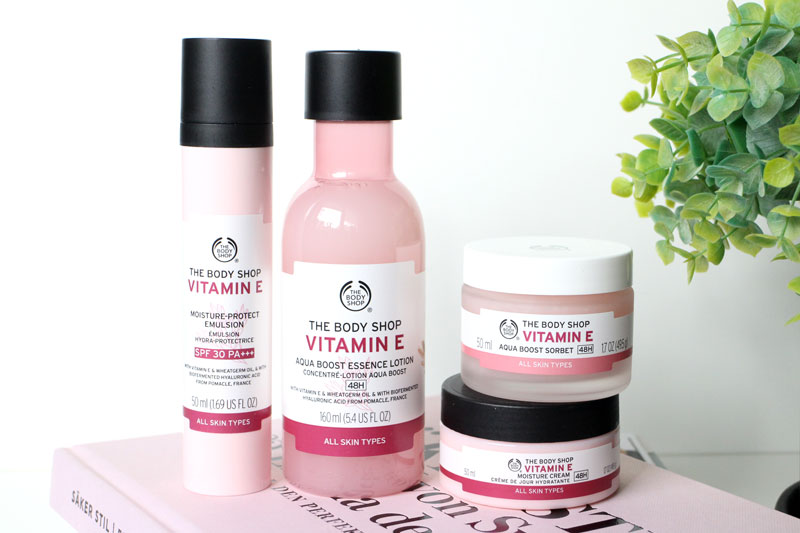 I början på maj lanserade The Body Shop ett par nyheter till sin ikoniska hudvårdsserie Vitamin E och passade dessutom på att lägga till hyaluronsyra till ingredienslistan. Vitamin E är en hudvårdsserie med fokus på maximal fuktighetsbevaring trots lätta konsistenser på produkterna i serien. Hyaluronsyra är ett ämne som vi redan har i kroppen och som hjälper till att hålla hudens fuktighetsnivåer. Kroppens egna hyaluronsyra minskar dock ju äldre vi blir och därför är det perfekt att kunna tillsätta lite extra fukt genom hudvårdsprodukter. Hyaluronsyran i The Body Shops produkter är vegetabiliska och hållbart producerade och återfinns i hela Vitamin E-serien, inklusive de två nya produkterna Aqua Boost Essence Lotion och Moisture-Protect Emulsion SPF30 PA+++.
♥ Superlätta Aqua Boost Essence Lotion (175 kr/160 ml) förbereder och aktiverar din hud för att fuktighetsbevara den i 48 timmar. Appliceras direkt efter rengöring som första steget i hudvårdsrutinen. Den gelifierade sammansättningen absorberas lätt av huden och förstärker fuktighetsbevaringen genom hela dagen tack vare det nya tillskottet: hållbart producerad vegetabilisk hyaluronsyra.
♥ Lätta och mjölkiga Moisture-Protect Emulsion SPF30 PA+++ (225 kr/50ml) gör huden fuktighetsbevarad, mjuk och skyddad utan att lämna vita märken efter sig. Med skydd mot UVA och UVB och förstärkning av hållbart producerad vegetabilisk hyaluronsyra för att låsa in fukt i mer än 48 timmar.

Jag har fått hem de båda nyheterna samt två andra bästsäljande produkter ur serien – Aqua Boost Sorbet (215 kr/50ml) & Moisture Cream (195 kr/50ml). Jag har använt delar av Vitamin E-serien tidigare och gillat den väldigt mycket så jag ser fram emot att få bekanta mig med nyheterna. Jag ska inom kort byta hudvård och väljer just nu emellan de här produkterna och en helt ny serie ifrån Oriflame (inlägg kommer i veckan). Vi får se vad det landar på härnäst men jag tror att det lutar åt Vitamin E-produkterna. Jag tänker mig att Moisture-Protect Emulsion kommer att vara helt underbar till sommaren.
Har du testat någon produkt ur serien?
---