Igår (1/3) lanserade The Body Shop sin senaste kroppskollektion – British Rose. Den nya kollektionen innehåller bland annat rosenessens från handplockade och ekologiska rosor. TBS fyller 40 år i år och kollektionen är därmed en hyllning till företagets brittiska arv. De ekologiska rosorna odlas på en gård som belönats för sin miljövänlighet, i Herefordshire i hjärtat av den brittiska landsbygden. Rosorna plockas för hand, lufttorkas och lakas ur på plats i friskt bergsvatten. Den här försiktiga extraktionsprocessen är vad som skapar den helt exceptionella rosenessensen till British Rose. I och med lanseringen lanseras även ett helt nytt produktformat Instant Glow Body Essence, vilket ungefär är som en bodylotion med lätt konsistens som innehåller subtilt skimmer för att ge huden lyster. British Rose är en komplett kroppskollektion bestående av:
British Rose Petal-Soft Bath Foam (250 ml / 150 kr)
British Rose Shower Gel (250 ml / 85 kr)
British Rose Exfoliating Gel Body Scrub (250 ml / 225 kr)
British Rose Exfoliating Soap (100 g / 60 kr)
British Rose Instant Glow Body Essence (250 ml / 225 kr)
British Rose Instant Glow Body Butter (200 ml / 185 kr)
British Rose Eau de Toilette (100 ml / 195 kr)
British Rose Petal-Soft Hand Cream (100 ml / 130 kr)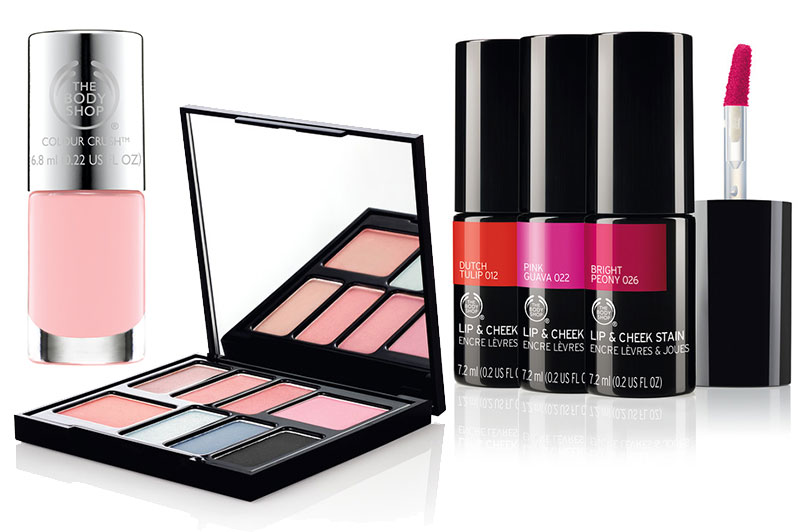 Igår lanserades även vårens trendkollektion för makeupen och även den går under namnet British Rose. I centrum för kollektionen står Limited Edition British Rose Eye & Cheek Palette (375 kr), en smart palett med både dova och rosiga nyanser för makeup som funkar från morgon till kväll. The Body Shops ikoniska storsäljare Lip & Cheek Stain (185 kr) lanseras i 9 nyanser och med en ny förpackningsdesign. Lip & Cheek Stain ska ge en fräsch och naturlig känsla samt 12 timmars fuktighetsbevaring. Colour Crush™ Nail Colour (95 kr) kompletterar kollektionen med fyra nya, våriga nyanser.
---
Så hur är doften på kroppskollektionen undrar ni nu kanske? Jo tänk er en regnfuktig rosbuske en varm sommardag. Rosdoft är tyvärr inte min favorit. Helt okej i en bukett men inget jag vill ha på kroppen och den här kollektionen är alltså inget för mig. Gillar ni rosdoft så ska ni absolut kolla in den för då tror jag inte att ni blir besvikna! Något jag däremot skulle vilja kolla in är den fina paletten i makeupkollektionen. Hur fin?
---