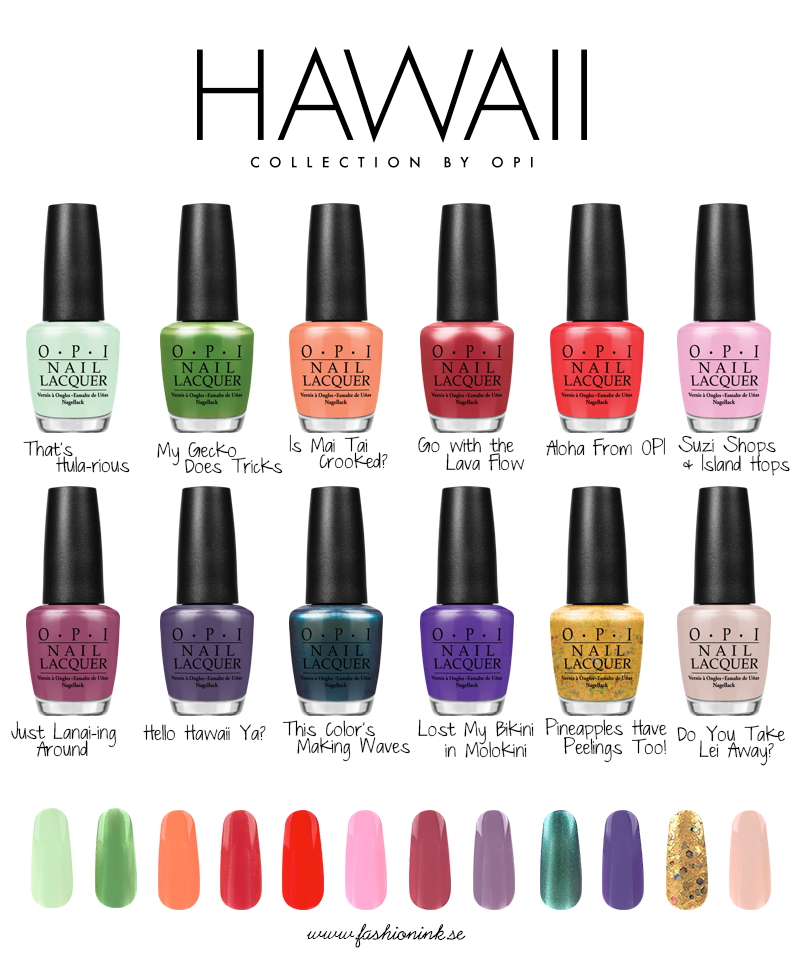 Ett tropiskt klimat med en praktfull grönska, rikt blomster liv och glödande vulkaner som får varje cell i en frusen kropp att vakna till liv.
Färg var något som kännetecknade modevisningarna inför våren 2015. Järva mönster, grafiska element och en explosion av färger som även fick en kontrast av neutrala nyanser. OPI har inspirerats av detta och i vår reser vi alltså till Hawaii med OPI. Vårkollektionen består av 12 lack i varierad färgskala och visst ser det väl ut att vara en inbjudande samling av nyanser?! Kollektionen Hawaii by OPI landar i butikerna i mitten på februari och lacken kostar som vanligt 155 kr/st. Jag har tyvärr inga flaskor att visa upp men här kan ni se swatches.
That's Hula-rious! This pastel mint green makes me dance with joy!
My Gecko Does Tricks Being bright and pearly green is just one of its talents.
Is Mai Tai Crooked? Get it straight – this fruity orange crème is fabulous!
Go with the Lava Flow You can feel the heat shimmering off this golden red.
Aloha from OPI Let's give a warm island hello to this bright creamy coral!
Suzi Shops & Island Hops A light and happy pink that's the perfect traveling companion.
Just Lanai-ing Around This dark, creamy mauve says "hang loose!" in style.
Hello Hawaii Ya? In this gorgeous, dusky purple, I'm doing just fine.
This Color's Making Waves This shimmery, lagoon blue has got heads turning.
Lost My Bikini in Molokini With this reef-inspired purple, what's one bikini more or less?
Pineapples Have Peelings Too! The heart of the matter lies in this gold shimmer with colourful sparkle.
Do You Take Lei Away? On second thought, I can't wait – I need this creamy nude now!