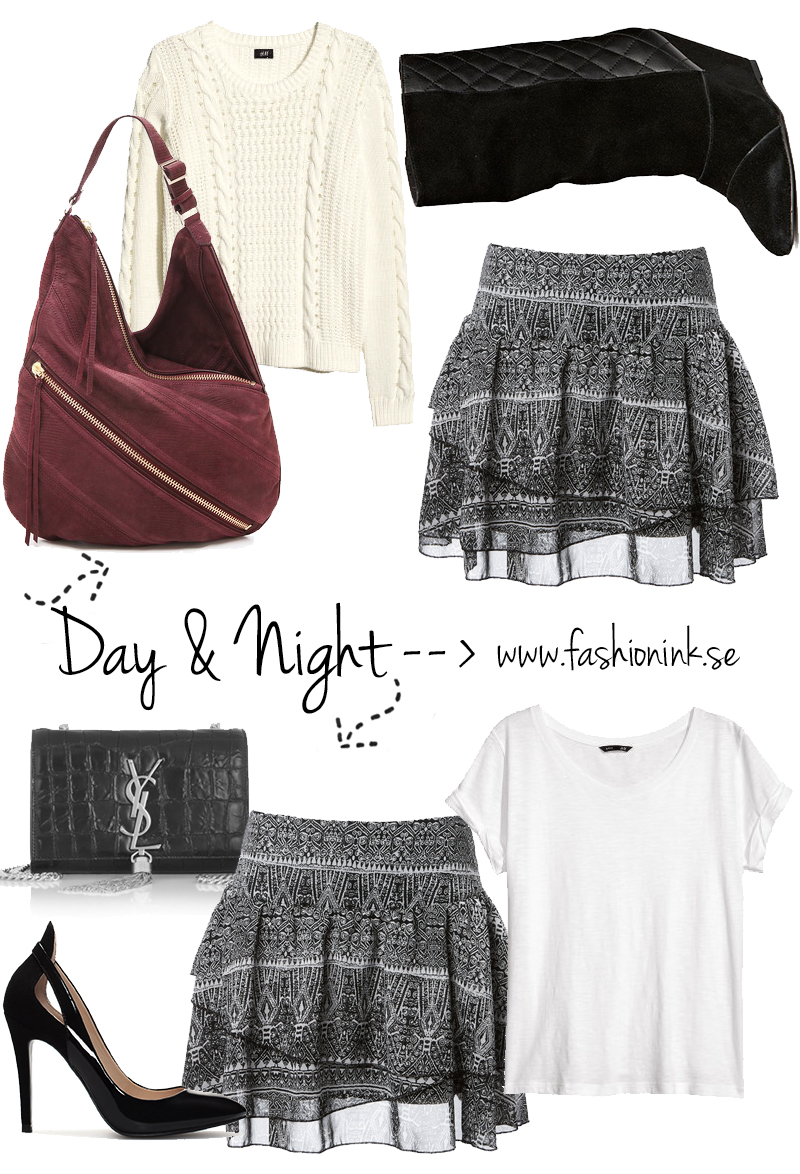 DAY: Väska, BOTKIER // Tröja, H&M // Kjol, GINA TRICOT // Stövlar, FRIIS & COMPANY || NIGHT: Väska, YSL // Kjol, GINA TRICOT // T-shirt, H&M // Pumps, ZARA
För ett tag sedan fick jag en önskan om att göra ett day & night inlägg med fokus på den här Marantinspirerade kjolen från Gina Tricot. Sagt och gjort, det tog bara lite tid men bättre sent än aldrig. En volangkjol av detta slag kanske skrämmer en del människor just för att man inte riktigt vet hur man ska matcha den och jag som är enkelheten personifierad säger bara keep it simple. Kjolen i sig gör mycket för outfiten.
Till vardags så skulle jag satsa på en kabelstickad tröja och ett par stövlar/boots om vi tänker nutid. Ska vi tänka vår så känner jag att en tunn stickad tröja fortfarande fungerar tillsammans med ett par ballerinaskor. Ett oversize-linne på sommaren och ett par nätta sandaler och outfiten är klar. Till fest skulle jag satsa på en clutch eller en miniväska som sticker ut lite. Roliga detaljer eller kanske i någon färg. Till det ett par klassiska pumps och en enkel t-shirt i oversizemodell. T-shirt på fest? Ja det fungerar och ger outfiten en casual men fortfarande väldigt snygg look. Tänker du dansa dig svettig hela natten lång? Ett par converse istället för klackar and you are good to go!
Jag är med och deltar i Trendsetter Search 2015.