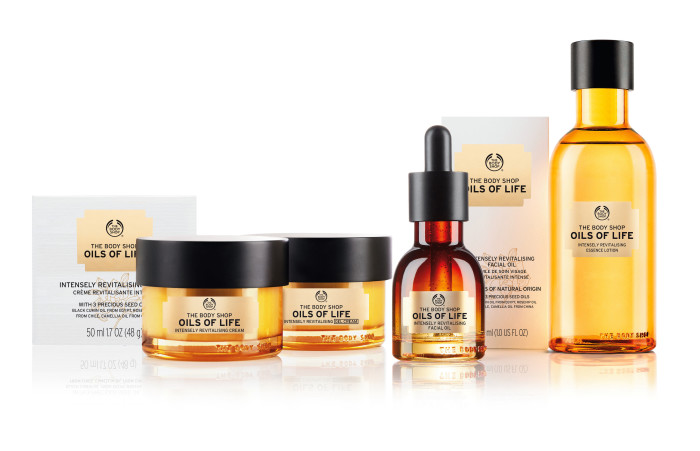 Idag tänkte jag att vi skulle ta oss en titt på den andra nyheten från The Body Shop som jag nämnde i förra veckan. Oils of Life™ som den nya hudvårdskollektionen heter är en daglig hudvårdsserie som ska friska upp huden, vårda och mjukgöra samt ta fram lyster och dämpa hudens tecken på åldrande. Varje produkt i den här nya serien innehåller en expertblandning av tre fröoljor, kända för sina förmågor att vårda och friska upp huden. De tre oljorna kommer från tre kontinenter och är tre av de mest värdefulla och verkningsfulla naturliga fröoljorna, kända sedan lång tid tillbaka för sina höga halter av essentiella näringsämnen och fantastiska vårdande egenskaper.
"The Body Shop har alltid hämtat sina ingredienser och sin inspiration från traditionella skönhetsritualer. När teamet upptäckte kraften hos de tre fröoljorna från Egypten, Chile och Kina bestämde de sig för att skapa en hudvårdsserie som verkligen vårdade huden på djupet, och som verkligen tog fram hudens naturliga lyster." Arnaud Jeanteur, General Manager The Body Shop International
Frön är det som skänker livet till en ny växt. De innehåller allt som behövs, vilket gör fröoljor till en av jordens mest koncentrerade källorna av essentiella näringsämnen. Eftersom The Body Shop kallpressar sina oljor behåller de alla näringsämnen och egenskaper och därmed även effekten på huden. The Body Shops trio av naturliga fröoljor i Oils of Life™ är fröolja av svartkummin från Nildalen i Egypten – känd för sina höga halter av antioxidanter, fröolja av nypon från kullarna kring Anderna i Chile – rik på omega 3 och 6 samt fröolja av kamelia från de ständigt gröna träden i Kina – naturligt rik på näringsrika oljesyror.
Oils of Life™ lanseras den 22 september och består av:
– Oils of Life™ Intensely Revitalising Essence Lotion (160 ml / 225 kr)
– Oils of LIfe™ Intensely Revitalising Facial Oil (30 ml / 450 kr)
– Oils of Life™ Intensely Revitalising Gel Cream (50 ml / 375 kr)
– Oils of Life™ Intensely Revitalising Cream (50 ml / 375 kr)
– Twin-Ball Revitalising Facial Massager 175 kr