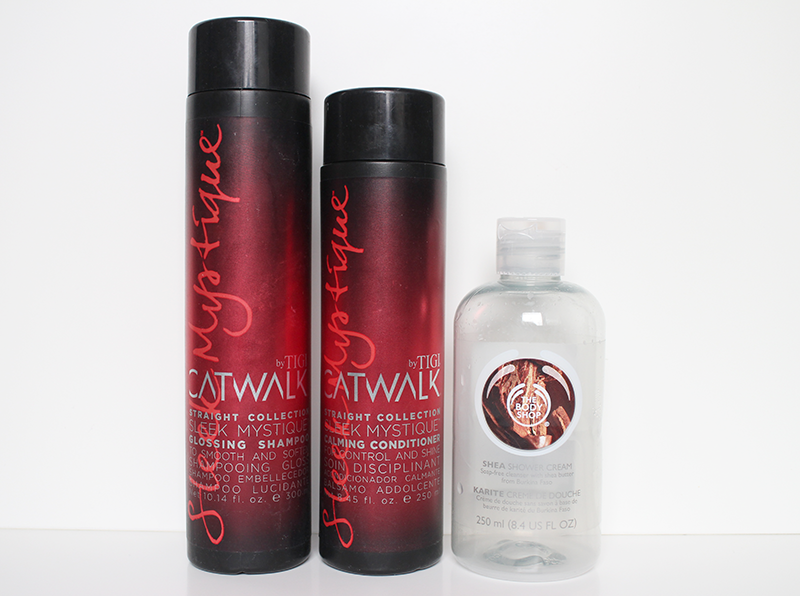 Så var det dags för ett nytt emptiesinlägg. Den här gången blir det bara tre produkter då jag inte orkade vänta in en fjärde.
1. Tigi Catwalk Sleek Mystique Glossing Shampoo – Ett schampo som löddrar fint och som gör håret rent på en schamponering. Doften är inte min favorit och inte heller förpackningen som gör att jag ofta överdoserar mängden schampo, vilket verkligen inte är nödvändigt för det behövs ytterst lite till schamponeringen. Helt klart godkänt men kommer inte att köpa igen.
2. Tigi Catwalk Sleek Mystique Calming Conditioner – Ett balsam som känns utredande och som tillför glans samt en härlig mjukhet till håret. Precis som med schampot så gillar jag varken doft eller förpackning vilket gör att jag inte kommer att köpa serien igen.
3. The Body Shop Shea Shower Cream – En av The Body Shops bästsäljande duschkrämer. Shea är något krämigare i konsistensen och jag upplever att jag behöver ta mer produkt än vanligt för att täcka in hela kroppen. Annars löddrar den fint och lämnar huden både mjuk och len. Doften är något för skarp för min smak och jag kommer förmodligen inte att köpa den igen. Det finns mysigare varianter i TBS sortiment.