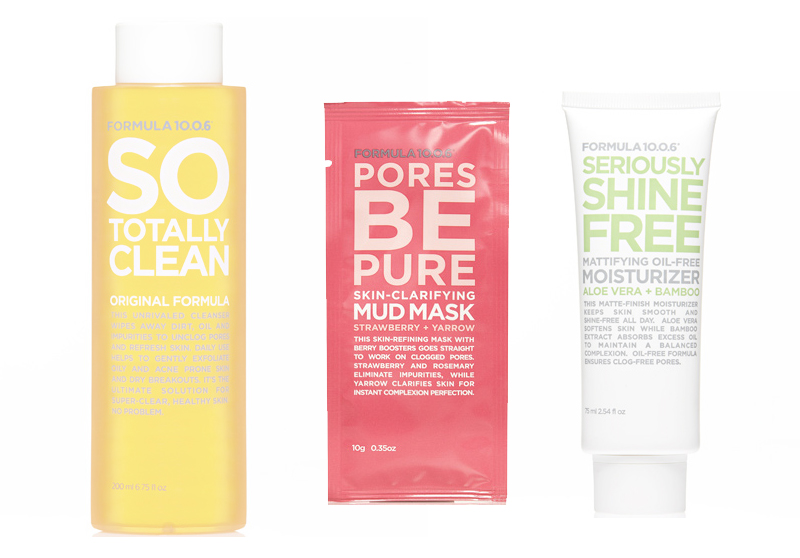 Nästa ut att recensera från Formula 10.0.6 är ansiktsmasken Pores Be Pure (pressutskick).
Pores Be Pure är en mask som hjälper till att eliminera orenheter och öppnar upp tilltäppta porer. Innehåller kaolinlera som verkar avgiftande på huden, drar ut orenheter och absorberar överskottsfett. Innehåller även jordgubb, en mild fruktsyra som exfolierar, rengör och hjälper till att läka utslag. Använd en till tre gånger i veckan. Används på väl rengjord och torr hy. Applicera ett tunt lager över ansikte och hals, undvik ögonområdet. Låt masken verka i 10-15 minuter, skölj sedan väl med varmt vatten. Klappa huden torr."
Den här masken såg jag verkligen fram emot att testa men tyvärr blev jag snabbt besviken. Masken kändes behaglig på hyn, doftade underbart av jordgubb och var lätt att skölja av. Så långt allt väl! Jag förväntade mig ett massivt utbrott i hyn dagen efter användningen eftersom det är vad jag brukar få vid användning av liknande produkter men inget hände. Absolut ingenting. Även om jag inte direkt önskar finnar så är det ändå det jag förväntar mig som resultat om jag använder en produkt som ska verka på djupet. Trevlig doft men så mycket mer tillför inte den här masken mig. Pores Be Pure säljs hos Kicks samt Åhlens och kan antingen köpas i prov (10g) för 20 kr eller fullsize (100ml) för 99 kr.
Betyg: ♥ // ♥♥♥♥♥