*Inlägget innehåller annonslänkar*
---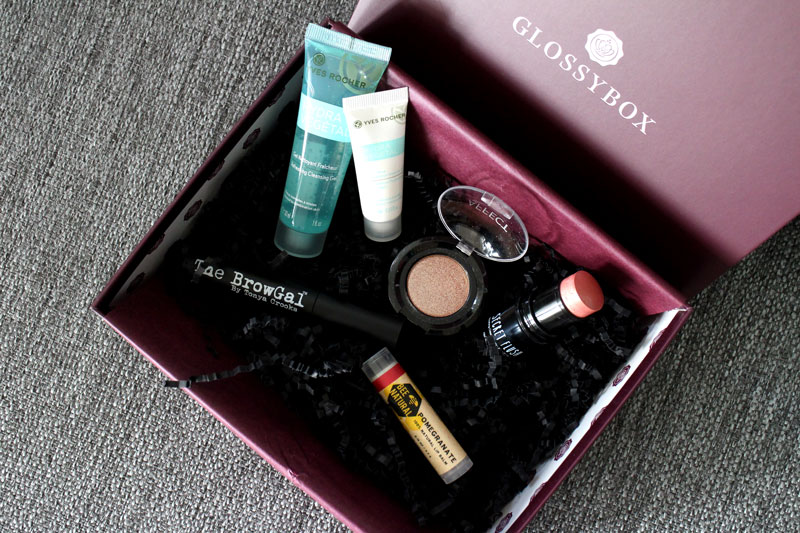 Månadens box ifrån Glossybox* är redan på väg och jag som inte ens har visat upp förra månadens. Så idag tar vi en titt på den. Septemberboxen kallades för The Burgundy Box och den vanligtvis ljusrosa boxen fick en vinröd/lila skrud och innehållet skulle vara en lyxig hyllning till hösten. Som vanligt följer inte Glossybox temat fullt ut och jag vet inte riktigt hur jag ska tolka innehållet. Nå väl, min box innehöll:
♥ Yves Rocher Hydra Végétal ansiktsrengöring och ansiktscréme (79 kr/125ml + 129 kr/ 50ml)
♥ The Browgal Eyebrow Gel (195 kr/ 6,5ml)
♥ Affect Cosmetics Colour Attack Foiled Eyeshadow (59 kr/2,5g)
♥ Bee Natural 100% Natural Lip Balm "Pomegranate" (35 kr/ 4,2g)
♥ Universal Beauty Secret Flush (199 kr/ 4,5g)
Blandat innehåll minst sagt. Ögonskuggan var skitkass rent ut sagt och hamnade i soporna med en gång, läppbalsamet lär väl användas i framtiden men det är inte en jätterolig sak att få om och om igen och jag känner mig verkligen tveksam till rouge/läpphybriden. Mini-produkterna ifrån Yves Rocher kommer dock att få följa med på en resa framöver så dem blev jag glad över och bryngelen använder jag flitigt, superbra. Två av fem produkter föll mig alltså i smaken denna gång. Min prenumeration är uppsagd så att boxen som trillar in inom kort kommer att vara min sista månadsbox ett på ett tag framöver.
Jag passade dock på att beställa den limiterade boxen som släpptes idag i samarbete med Therese Lindgren. The Vegan box är helt vegansk och innehåller 6 produkter varav en är en fullsize hårinpackning ifrån Maria Nila – Head & Heal Hair Mask (värd 279 kr/250 ml). Boxen kostar 279 kr för aktiva prenumeranter och 299 kr för oss andra. Totalt värde på boxen är över 1000 kr. Jag beställde den med en förhoppning om att innehållet är riktigt bra eftersom jag inte tänker mig att Therese sätter sitt namn på något halvbra. Hårinpackningen ser jag fram emot och andra märken jag hoppas på i boxen är bland annat REN Skincare och The Balm. Här kan ni beställa Veganboxen*.