Inlägget innehåller annonslänkar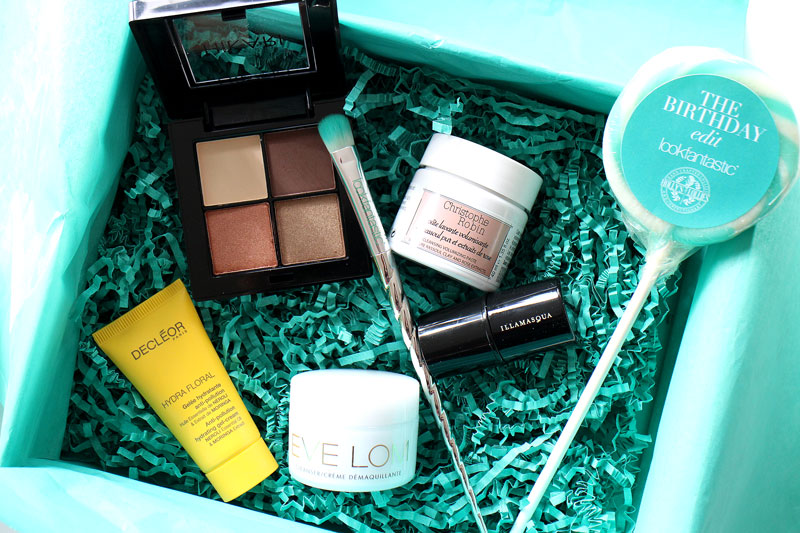 I september firade Lookfantastic beauty box tre år på marknaden och septemberboxen gick därmed under temat "The Birthday edit". Jag minns fortfarande när Lookfantastic lanserades sin prenumerationstjänst och jag hakade på första boxen och höll kvar länge. Det senaste året har boxarna kommit hem till mig som pressutskick men oavsett om jag fått dem eller betalat för dem själv så har jag alltid tyckt att Lookfantastic har den bästa boxtjänsten. Iallafall av de som vi kan beställa här i Sverige. De följer sina teman, boxarna är väldigt fina utan att tumma på innehållet och det finns en bra variation i nästan alla boxar. I födelsedagsboxen hittade jag:
♥ Hikari Eyeshadow Quad in Tonya (full size ca 125 kr)
♥  Decleor Hydra Floral Hydrating Gel Cream (travel size 15ml, ord 50ml ca 465 kr)
♥  Christophe Robin Cleansing Volumizing Paste (travel size 40ml, ord 250ml ca 480 kr)
♥  Illamasqua Mini Contouring Gel Sculpt in Silhouette (travel size 4g, ord 8g ca 280 kr)
♥ Lookfantastic Unicorn Eye Shadow Brush (full size – skapad för denna box)
♥ Eve Lom Cleanser and Muslim Cloth (travel size 20ml, ord 200ml ca 965 kr)
Förutom ovannämnda produkter så innehöll boxen även en gigantisk klubba samt det senaste numret av ELLE UK (som alltid). Det här var en riktigt bra box skulle jag säga. Lite hudvård, lite för håret och framför allt makeup – det är en inte helt bortskämd med. Paletten ifrån Hikari kändes något billig vid första anblick men har superfina och pigmenterade nyanser som känns helt rätt till hösten. Stiftet ifrån Illamasqua blev jag först förskräckt över då nyansen är mörkbrunt men vid applicering blir det skirare och är väldigt lättarbetat även för en superljus människa som mig. Överlag kändes boxens sammansättning av produkter rätt och jag det finns inte en produkt i boxen som kommer att få vandra vidare till vänner. Gott betyg med andra ord. Jag tror att The Birthday Edit är slutsåld men idag släpptes oktoberboxen med temat Indulge Me. Jag har sett en spoiler på innehållet och ja – det är en bra box! Här kan du läsa mer om Lookfantastic Beauty Box* om du är intresserad.
Inlägget innehåller pressutskick