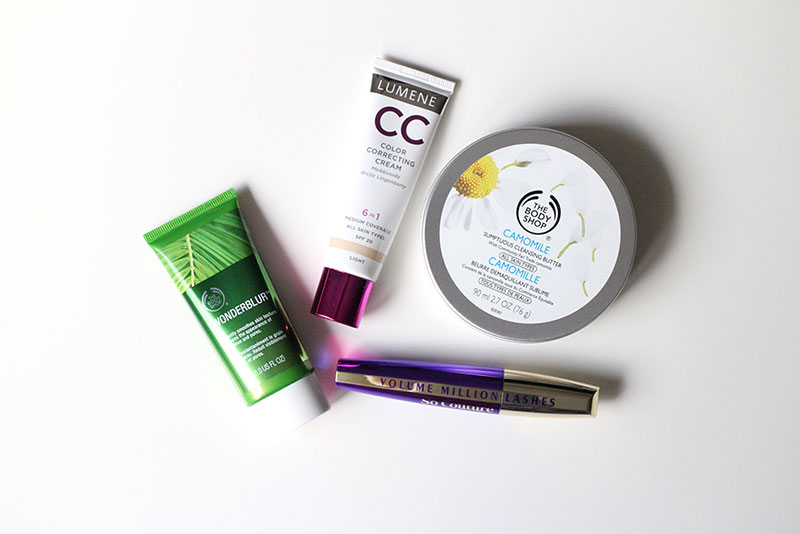 ---
Ah, älskade skönhetsprodukter! Jag testar nya produkter med regelbundenhet men trots detta finns det ett par produkter som jag mer än gärna köper om och om igen. Mina holy grails. Fyra av dessa ser du ovan. Fyra produkter som jag ofta återvänder till, som alltid måste finnas i mitt badrumsskåp och som jag använder de dagar då jag vill ha säkra kort. Min nuvarande tub av Lumenes CC-cream är på g att ta slut och det är en hemsk känsla. Den är så pass bra att jag mer än gärna hade betalat det dubbla priset för den. Måste (måste!) köpa en ny men nu är julklappar prio 1 så det får bli efter jul. Hoppas den överlever tills dess.
---
♥ The Body Shop Wonderblur (245kr/30ml) -En primer som ger intryck av en slätare yta och som minskar intrycket av fina linjer och porer för en perfekt look hela dagen. Tack vare plantstamceller från edelweiss skyddas huden långsiktigt samtidigt som den får en fräsch lyster, oavsett vilken hy du har.
♥ Lumene CC-cream (159kr/30ml) – Denna unika 6-in-1-produkt som utnyttjar den senaste teknologin är en lätt och ändå perfekt täckande foundation. Den appliceras jämnt och följsamt på huden, täcker och jämnar ut hudens ojämna ton och rodnad. En creme med flera egenskaper är en praktisk lösning för konsumenter som värdesätter enkla, snabba och lättanvända produkter. Slutresultatet är en halvmatt och felfri hud som ser slät ut.
♥ The Body Shop Camomile Sumptuous Cleansing Butter (185kr/90ml) – En solid rengöring som smälter till en olja vid vid värme. Masseras in på torr hy och sköljs av med vatten.
♥ L´Oréal Paris Volume Million Lashes Mascara So Couture (179kr) – En mascara som ger en separerande, naturlig look med hjälp av mjuk gummiborste och korta piggar.
---
Har du några holy grail-produkter?