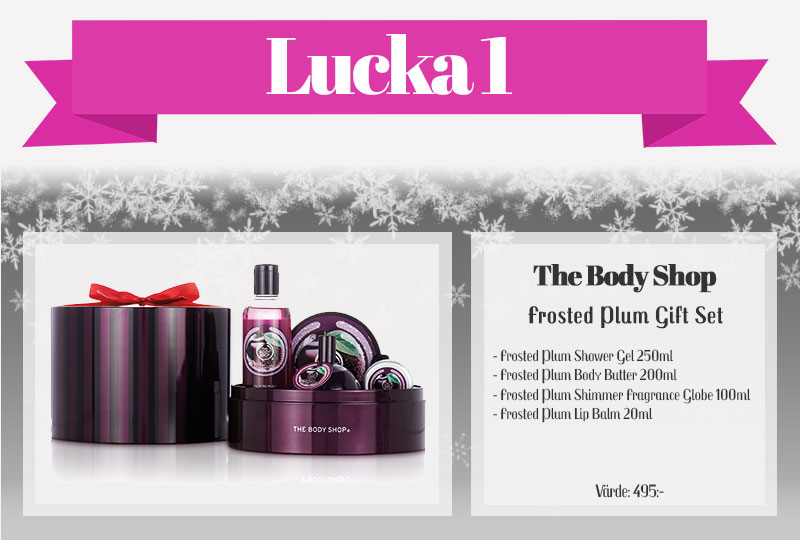 Så var det äntligen dags för mig att dra igång Fashioninks julkalender. Den första luckan är i samarbete med The Body Shop och vinsten består av det fina presentkitet Frosted Plum Gift Set (värde 495:-). Frosted Plum är en sötmumsig doft av plommon som passar perfekt i vintermörkret. Kitet som kommer i en superfin plåtask består av Frosted Plum Shower Gel 250ml, Frosted Plum Body Butter 200ml, Frosted Plum Shimmer Fragrance Globe 100ml och Frosted Plum Lip Balm 20ml.
För att vara med och tävla ska du:
♥ Lämna EN kommentar med svaret på frågan – Frosted Plum är en av The Body Shops tre julserier detta år. Vilka är de andra två? Ledtråd finns här.
♥ Glöm inte att lämna din mail i fältet för detta, det är då bara jag som ser den.
---
Tävlingen avslutas ikväll 23.59 och vinnaren kontaktas på den angivna mailen. Jag kommer även att skriva ut vinnaren i detta inlägg. Vinnaren har sedan 24 timmar på sig att svara på vinnarmailet, innan vinsten går vidare. Kommentarerna kommer först att visas vid tävlingens avslut och de kommentarer som inte följer tävlingsreglerna blir automatiskt ogiltiga! Tävlingen är endast öppen för läsare bosatta i Sverige. LYCKA TILL ♥
---
Svaret på denna lucka var Glazed Apple & Frosted Cranberry. Tack till alla er 475 st (!!) som var med och tävlade om detta fina set och stort GRATTIS till Silly Me som kammade hem vinsten den här gången. Svara på ditt vinnarmail så fort som möjligt.